Pie in the FACE!
auto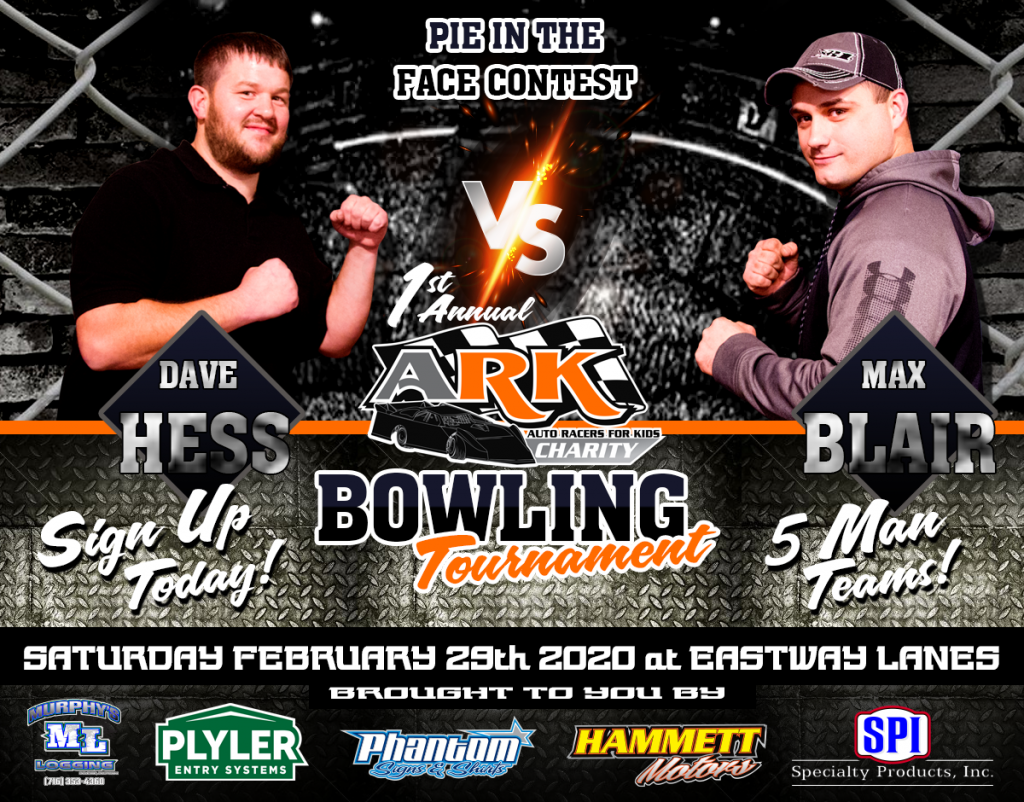 As previously announced, our first event of 2020 is going to be our 1st ever Bowling Tournament to be held at Eastway Lanes, Saturday, February 29, 2020! More information can be found under the Events Tab!
To go along with this bowling and to seek more involvement from our local racers, we are hosting a Pie in the Face contest and pitting 2 local competitors against each other, almost like the King Of The Hill, but instead of getting a checkered flag, the winner gets to Pie the loser!
TEAM BLAIR vs TEAM HESS
Max Blair and Dave Hess have signed on to be our 1st contestants in our 1st ever Pie in the Face King of the Hill! We can not thank these 2 drivers enough for their support and show of sportsmanship!
Details:
The pie throwing will happen at the bowling tournament, February 29.
The fundraising has started, and will continue up until the Bowling Tournament!
The driver to raise the most funds will get to pie the driver who raises the least funds! So, if you want to see Max get pied, donate to Team Hess and if you want to see Dave get pied, donate to Team Blair! All funds go directly to the charity!
How can you donate, you ask?
Electronically – Venmo – Nikkilayton or Payapl – Jillym923@aol.com – Specify to which team you are donating to. Paypal users – be sure to use the friends & family option.
Cash – Donate to Hess, Blair or any ARK Board Member
Check – Made Payable to Auto Racers for Kids, put the "Team" you are donating to in the memo line and mail to Auto Racers for Kids, PO Box 9602, Erie PA 16506
The competetition is heating up!!!
**Both Team Hess & Team Blair are running give-a-ways for persons who donate $5 or more to their team! Details were posted on their respective Facebook pages – Team Blair Racing & Dave Hess Racing**
Questions – Contact us!
Autoracersforkids@gmail.com